Our Story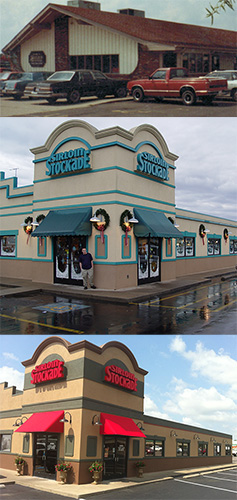 The Sirloin Stockade story began with a golf trip to Murray, Kentucky. After playing at Miller Memorial Golf Course, Adam and Lisa Carver realized they had fallen in love with the town. They took a look around and felt it could be a great location for a family style restaurant. For many years, both had been successfully running other people's restaurants and decided it was time to open their own. The Carvers ultimately acquired the existing Sirloin Stockade restaurant from owners Ron and Joyce Sallin and it opened under new ownership on Feb 1, 1994.
From the beginning, the Carvers' vision for their restaurant was to provide a family-friendly dining experience with delicious food at affordable prices. To accomplish this, the restaurant underwent a major remodel in 1997. This 1500 square foot expansion allowed a larger buffet offering, the addition of a bakery bar and an increased seating capacity of 220.
The extra space has enabled the Carvers to increase their food offerings through the years. Additions to the entree menu have included the Big Sky Pork Chop, Glacier Glazed Salmon, T-bone steak and the Big Sky Sirloin. The most dramatic change was in the buffet, which saw the addition of more traditionally southern fare such as Hand-breaded Catfish, Hush Puppies, Pulled Pork and Southern Fried Chicken.
Twin Steak Special
Not only has Sirloin Stockade grown and flourished, so has the Carver family. Twin daughters, Whitney and Sydney, arrived the same year the restaurant was opened. With their birth, Adam was so excited he immediately created a new promotion to honor them: the Twin Steak Special. Now known as 'Steak for Two', it continues to be a popular item whenever it is offered. The twins have always been a part of the Sirloin Stockade restaurant and long-time customers have literally watched them grow up before their eyes. They are now full-time college students (Whitney at Murray State University and Sydney at West Kentucky Technical College) and both work part-time in the restaurant as servers.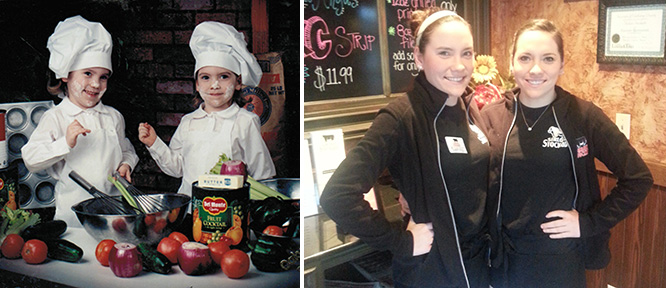 The Big Cow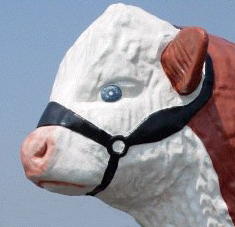 The Sirloin story wouldn't be complete without a mention of Stocky. Although technically a Hereford Steer, everyone affectionately refers to him as the "Big Cow". A Murray landmark since 1977, children love him and the Murray community commonly uses him as a reference point when giving directions.
Just like people, Stocky has had his share of ups and downs. In 2011, during an intense storm, high winds tipped him over and he lost an ear. A flurry of text messages were sent about the cow-tipping incident, eventually culminating in Stocky's debut on the front page of the Murray Ledger & Times. All ended well, as Stocky was shipped off for repair and was soon back in his spot and good as new. Stocky's job as a mascot does require some occasional travel and if you notice him missing from the parking lot, he is most likely participating in a parade or attending a rodeo. Not to worry... he will be home soon in his usual spot, guiding the way into Sirloin Stockade.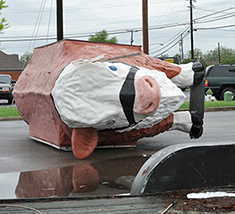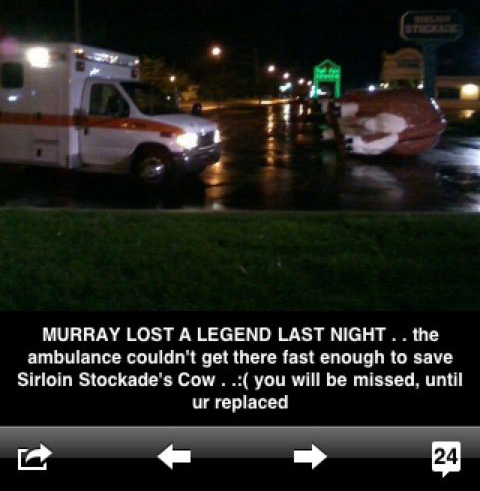 As the restaurant's history continues to unfold, the Carvers know that they owe their success to the many wonderful customers and hardworking employees who have made all of this possible. Many thanks to each and every one of you!