Current Food Promotions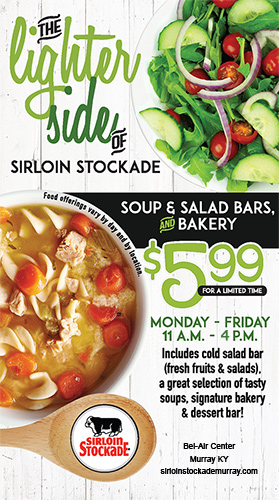 Lighter Side Lunch
For healthier eating, enjoy a Lighter Side lunch that includes the Salad Bar, Soup Bar and Dessert & Bakery Bar. Available Monday - Friday from 11 am - 4 pm.
Cold Bar - A variety of homemade salads, crisp veggies and fresh fruit
Soup Bar - Two choices of freshly-made soup with selections changing daily
Bakery & Dessert Bar - A tantalizing selection of homemade desserts and fresh baked goods. For a guilt-free indulgence, we offer three sugar-free desserts: apple pie, cheesecake and frozen vanilla yogurt.
Only $5.99!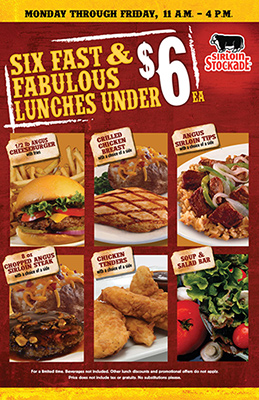 6 under $6 Lunches
Six fast and delicious lunches that are easy on your wallet. All delicious, all under $6! Available weekdays 11-4
½ lb Cheeseburger with fries
Grilled Chicken Breast with choice of side
Sirloin Tips with choice of side
8 oz Chopped Sirloin with choice of side
Chicken Tenders with choice of side
Soup and Salad Bar
Dessert Bar included with all 6 lunches.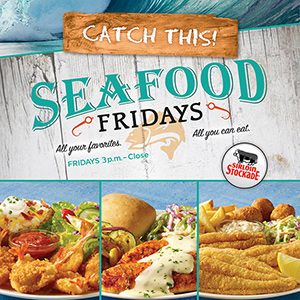 Seafood Fridays
All-you-can eat seafood buffet every Friday from 3 pm – close! Includes popular favorites such as Creamy Crab-Topped Salmon, Baked Fish with Butter Sauce, Clam Strips and Dynamite Shrimp.
In addition to the Hot Bar, the seafood buffet includes the Soup, Salad and Bakery/Dessert bars.
Only $11.99!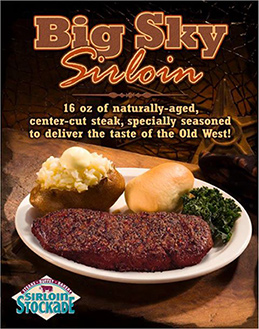 Big Sky Sirloin
16 oz of delicious center-cut steak, naturally aged and specially seasoned to give it a great Old West flavor.
Comes with dessert bar and bakery.
$13.99