About Our Food
From steak to chicken and seafood to our award-winning buffet, we have something for everyone at very affordable prices! All of our food is made fresh from scratch daily. To see all the items we offer, be sure to click the Menu tab, where you can view or download the complete menu.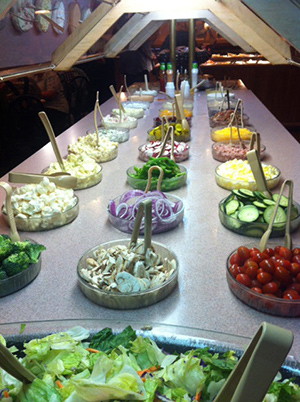 Our Beef
We serve only 100% pure beef. We then season our steaks and burgers to perfection and cook them to your specifications.
Our Buffet
Find out for yourself why our all-you-can-eat buffet has earned Murray's Reader's Choice award year after year! We have dedicated attendants to make sure your meal is always hot, fresh and plentiful. The buffet includes all of the following:
Hot Bar
A mouthwatering assortment of chicken, beef, fish, vegetables, pasta and more!
Salad Bar
In addition to fresh, crisp lettuce and toppings, there is also a variety of homemade salads, including our famous Seafood Salad.
Soup Bar
Our delicious soups are made fresh daily with two different options offered every day. Choices include: Cream of Broccoli, Vegetable Beef, Cream of Potato, Chicken Noodle, Clam Chowder, Chili, and Chicken Gumbo
Dessert/Bakery Bars
Enjoy a warm, freshly-baked yeast roll with your meal and then come back for dessert! We have a tantalizing selection of homemade desserts that will satisfy any sweet tooth. Popular favorites include cinnamon rolls, bread pudding, sugar-free cheesecake, cookies, banana pudding and coconut caramel pie.
In the mood for ice cream? We have that too! And be sure to try our fat-free, sugar-free vanilla frozen yogurt for a guiltless pleasure!
Get a Buffet To Go!
For quick and affordable carryout, buffet items are conveniently priced by the pound. You can get any combination of delicious food from the Hot Bar, Salad Bar, Soup Bar, and Dessert/Bakery Bars. To view current pricing, please visit the View/Save Menu tab above.
If you need to feed more than a few, many of our buffet items are available for bulk purchase by special order. Please see the Pickup section of the Catering & Parties page.